Request Body
Reserve Account Response Body
Invoice Reserved Account
Monnify invoice reserved account allows you to reserve an account for your customers to whom you send invoices to regularly. This account can be attached to invoices being generated for a customer so that the same account number is received for every invoice peculiar to that customer.

These accounts are slightly different from regular customer reserved accounts as customers cannot pay into these accounts until they are attached to an invoice.

See Reserve an Account API for details on how to implement one.
Reserved Account Creation on Monnify Dashboard
To create reserved account via the Monnify dashboard, kindly navigate to the reserved account section, click on the "create new" button and populate the fields shown in the image below;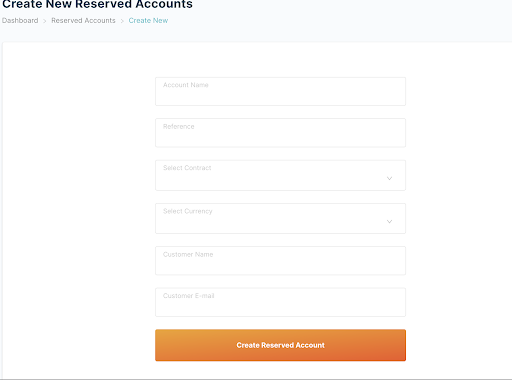 Transaction Limits
You can establish a limit on a customer's account using the Transaction Limit APIs. This means that on a customer's account, you can specify the maximum amount per transaction, the maximum number of transactions per day, and the total amount per day.
To do so, you will need to create a Limit Profile and use the Limit Profile code to assign customers to the limit profile.

In managing Transaction Limits, you can do the following
BVN Restrictions
Merchants are able to restrict source accounts that can fund a reserved account using either BVNs or Account Name or Account Number. This is mandatory if the restrictPaymentSource request parameter is set to true.

This feature is useful for merchants in a regulated business category, where only the authorized user(s) of a reserved account should fund the reserved account, to allow more payment sources, only BVNs will be used to allow more payment sources other than the default customerBvn already on a reserve account.
The rule application is as follows:
If only account numbers are specified, funding of account will be restricted to specified account numbers.
If only account names are specified, funding of account will be restricted to specified account names.
If both account numbers and account names are specified, funding will be permitted when either of the two rules match, i.e. source account number matches specified account numbers or source account name matches specified account name.
Sample Request
Sample Response